Physical spaces
Of course we do have a physical base. We're proudly located at the heart of the O'Brien Centre for Science at UCD. We've designed the state-of-the-art space ourselves, in collaboration with internationally renowned architects RKD, and we took our inspiration from visits to the d.school at Stanford University in California and Google's Dublin headquarters. 
Art and exploration
The Academy is where great adventures begin. That's why our physical spaces are named after famous Irish explorers, including Ernest Shackleton and Tom Crean. 
Just like Shackleton's Antarctic expedition, we recognise that not all exploration achieves its original objective. As long as you stick together as a team and learn from the journey, we consider it a success. 
The Academy is a safe space where you can explore, take risks, and build creative confidence. It's bright and uplifting, with work by the late Irish artist Patricia Murphy adding colour and vibrancy to our surroundings. 
"Patricia's work lifts the spirit and the vibrances of her paintings act like a beacon of hope and happiness, a fixed point of dazzling colour, a ray of light for all to find their way. A North star steady and fixed in time."

Louise Shaw, Painter
Dynamic and collaborative
All of our tables are round, all the better to collaborate as equals. The rooms are partitioned and our furniture is on wheels, for a completely flexible and dynamic learning environment. Most of our students won't see the inside of a lecture theatre during their course at the Academy. 
You might find yourself standing by a wall of post-it notes to discuss a problem, spreading prototypes out  on the floor, or collaborating on a team challenge. Wherever we are, you'll always find an interactive, energetic group of students and educators looking at the world differently.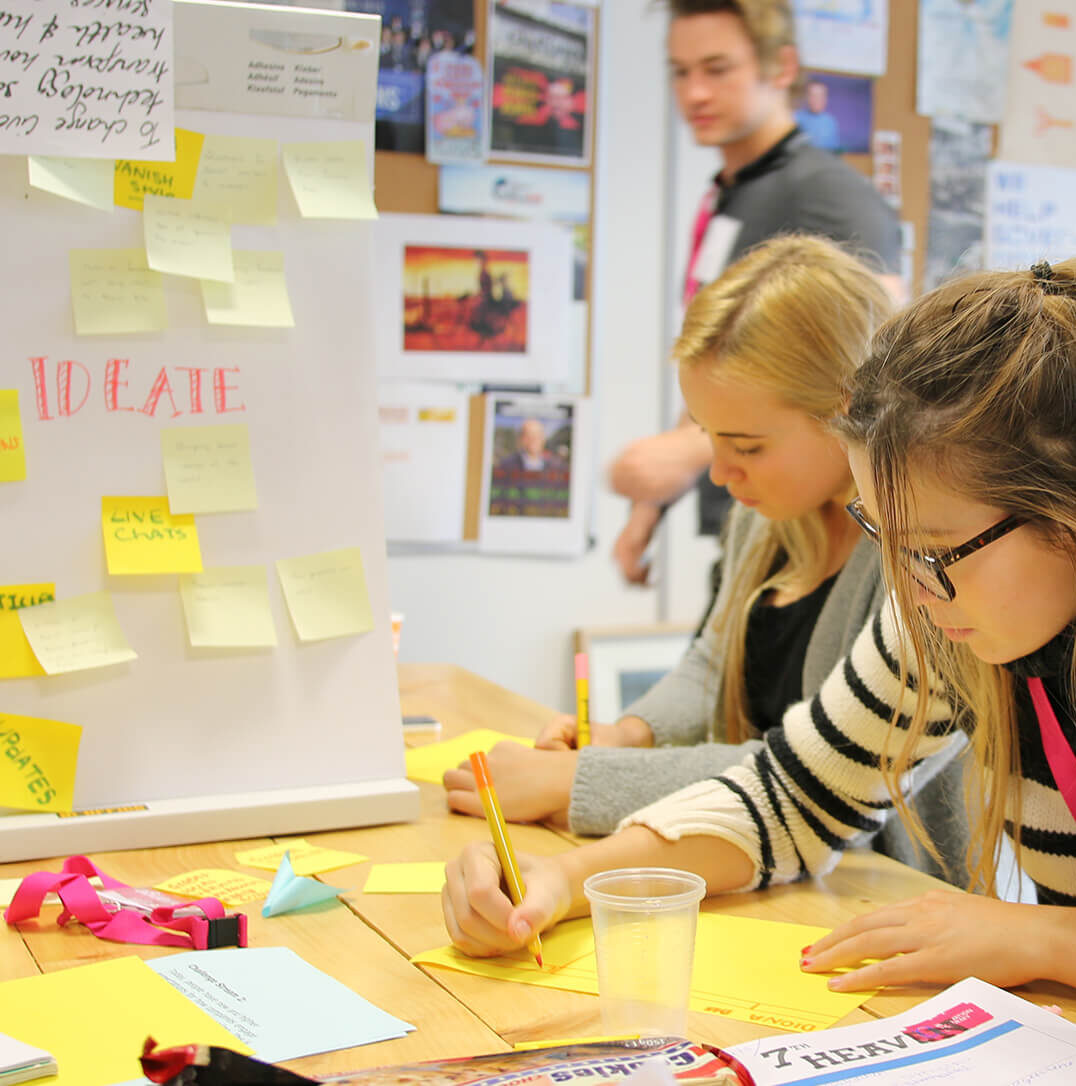 Innovation Academy MakerSpace               

Even when you are taking an online course, you are welcome to come and explore the IA MakerSpace and vertical farm. You can create prototypes on our 3D printers and explore our VR and AR capabilities. If you can't get here in person, you can still talk to the IA MakerSpace team, who will support you as much as you can to create what you need. 
Pop in any time
We welcome visitors to the Academy here in the O'Brien Centre for Science  (subject to Government guidelines). Get in touch if you'd like to look around. 
Online spaces
The Academy's online space is also far from conventional. Everything we do in person is replicated online, whether on Zoom or another virtual world. 
Virtual spaces, real experiences
Our live online training takes the form of workshops, not lectures. When you join our virtual classroom you'll see, hear, and interact with all your classmates, not just your facilitator. Wherever you are, you can find yourself joining the group in some morning yoga, connecting with your class in breakout rooms, speaking to a facilitator at the virtual water cooler, or getting your teeth into a real-world problem.
The online environment also gives us the chance to hold fireside chats with interesting and inspiring visitors from all over the world.
A collaborative experience
As well as workshops, we use online break-out rooms to enable small group working. You'll have the space to get to know your team, to complete tasks, solve problems, and experiment together. You'll learn from trial and error and put the concepts you are learning into practice. 
We harness the very best collaboration tools to enhance your online learning experience. These tools have been carefully researched to facilitate your learning throughout the course and in the future, as well as to support home-working and boost your CV. 
We use platforms like Zoom, Mural, Jamboard, and Brightspace to allow our classes to connect, collaborate and create in a virtual setting. We don't assume any prior knowledge of any of these tools, and you'll be introduced to them gradually, to move you from beginner to advanced.