The Experience
There is no typical day on the UCD Innovation Academy's Graduate Certificate in Creativity, Innovation and Entrepreneurship. "I liken it to an advent calendar," says Dr. Lollie (Lorraine) Mancey, the programme director. "Every day you will open a door and you won't quite know what you're going to get." She continues, "I've designed this course so that it replicates the entrepreneurial experience. When you're an entrepreneur, anything can happen on a single day."
This graduate certificate course was launched in 2008 during the recession as a way in which to help those who lost their jobs at that time to reimagine their future. Fast forward to 2022, and a dramatically changing job market in a dramatically changing world, and this course continues to be more relevant than ever.
Participating students range in age from 25 to 65. They may be life long learners who are feeling a little bit stuck. They may be pivoting out of one job and into another. They may have found themselves out of a job post pandemic. For many it is possibly the first time they have taken stock of their careers in a long time, and they are approaching the future with a mix of excitement and trepidation. Wherever they are on their career trajectory, students are looking for a way to reclaim the dreams and aspirations they may have put aside years ago. "This course acts as the bridge between those two spaces in their life," Lollie says.
Our Alumni
Sharon Keegan, a self-described working class woman from Tallaght, enrolled in this course
when her job working with a UK food brand was eliminated. She was a new mum who found
herself in a volatile working environment and she decided to look for something new. Through the Innovation Academy she reconnected with her passion for physical and mental health. The Innovation Academy helped her put this passion into a bona fide fitness clothing business now in its third year.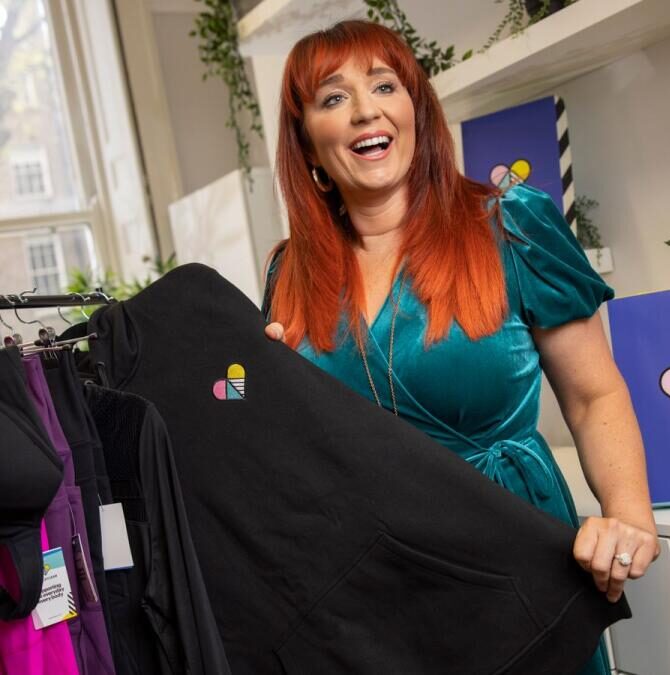 Lollie talks about the importance of recognizing a person's individuality and "making it
bigger." She describes one student who loved Halloween so much that her home is festooned in Halloween decorations all year long. She wanted to build a business around the idea of a Halloween village, a year-round amusement park for Halloween lovers. This student was recently in touch to say that she is now the director of programming for the Puca Festival, Ireland's renowned Halloween Festival. How did she get the job? Well, she certainly left an impression because she attended the interview in her own unique gothic style. "We get very caught up in adulting," Lollie continues. "In order to be a good innovator, or somebody who is seeing the world differently, you need to be okay with the playful side of yourself."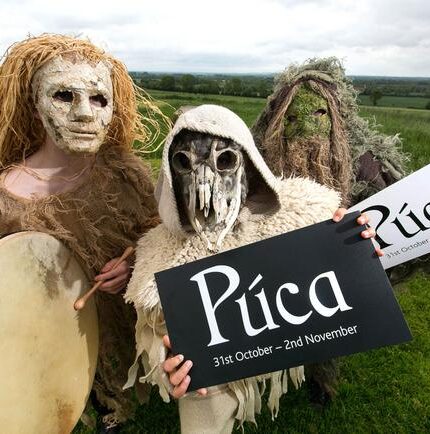 Our students
For students who decide to take this course there is often a tension. On one hand they know that they want to change their career path, and that they have been stymied for a variety of different – often societal – reasons. On the other, Lollie is often faced with students who are struggling with the very real affliction that is "impostor syndrome." Lollie is quick to help students move past this. She cites leading entrepreneurial thinker, Saras Sarasvathy, the woman behind The Entrepreneurial Mindset, and the practical idea of the bird in the hand: what is it that you love, and that you are good at, how wide is your network, and how do you tap into it.
She also works with students who feel like perhaps they are "past it" and potentially at a disadvantage because they are older. Lollie dismisses this sentiment "I'm on a bit of a campaign to get older people moving into the entrepreneurial field,"she says, and cites data that shows there is a correlation between age and experience and success when it comes to launching a new business: the older you are, the more likely you will be to succeed.
The cultural landscape in Ireland has shifted. From the outside, Ireland has become a tech centered economy. However, Lollie maintains that a lot of tech workers come from abroad to take up those career opportunities. People in Ireland see that success but don't necessarily feel that they are a part of it. Lollie argues that they are missing the opportunities that orbit the tech economy. "There's a lot of opportunity in Ireland at the moment," she says. "It's only a question of how to harness it."
About
Lollie herself is an entrepreneur at heart. She has started three business so far, and currently hosts An Entrepreneur Like you (Spotify). She is committed to demystifying the entrepreneurial approach, and shaking it up – a lot. The majority of today's entrepreneurs in Ireland are men. Lollie wants to change that. The participants in the Certificate course today are largely 50/50 split by gender.
"There's that lovely quote from Mary Oliver," Lollie says, "'What is it you plan to do with your
one wild and precious life?' I do think we get stuck sometimes, and this course helps
students get unstuck. It helps them reimagine their lives and gives them both the confidence
and the tools to live it their way."