Project Background
Dublin City Council wished to engage and educate the public on the need to reduce water on Ireland's drainage infrastructure, and World Water Day was the perfect 'hook' to start the conversation with the public. Wednesday 22nd of March was World Water Day – a global initiative to accelerate change to tackle the water and sanitation crisis, aligning with Sustainable Development Goal (SDG) 6. Our campaign aims to change attitudes and behaviour around water usage in Ireland by being memorable – sparking conversations, and being holistic in leveraging in-person and online mediums.
Dublin City Council partnered with the Innovation Academy's MakerSpace, to highlight the day with the 'Splash Dash' interactive public campaign, comprising two components – a bespoke interactive 3D physical model showcasing Dublin's drainage system (with augmented reality features) and a social media AR filter campaign.
3D Model Construction
The bespoke, interactive model is designed to demonstrate the effects of excess water on our drainage system and our environment, specifically showcasing how water from Dublin homes enters the rivers of Dublin. The model came to life after consulting with UCD's Dr. Sarah Cotterill, Professor of Civil Engineering (Water), on this project's physical build and educational aspect. The intricate 3D model was further designed, crafted and developed by Cormac Deasy. The model replicating a typical Irish housing estate's drainage system was created using many of the available tools at the MakerSpace, including the vacuum forming machine, laser cutter, plastic recycler, and several 3D components using our 3D printers. Many elements of this particular build include upcycled and repurposed materials.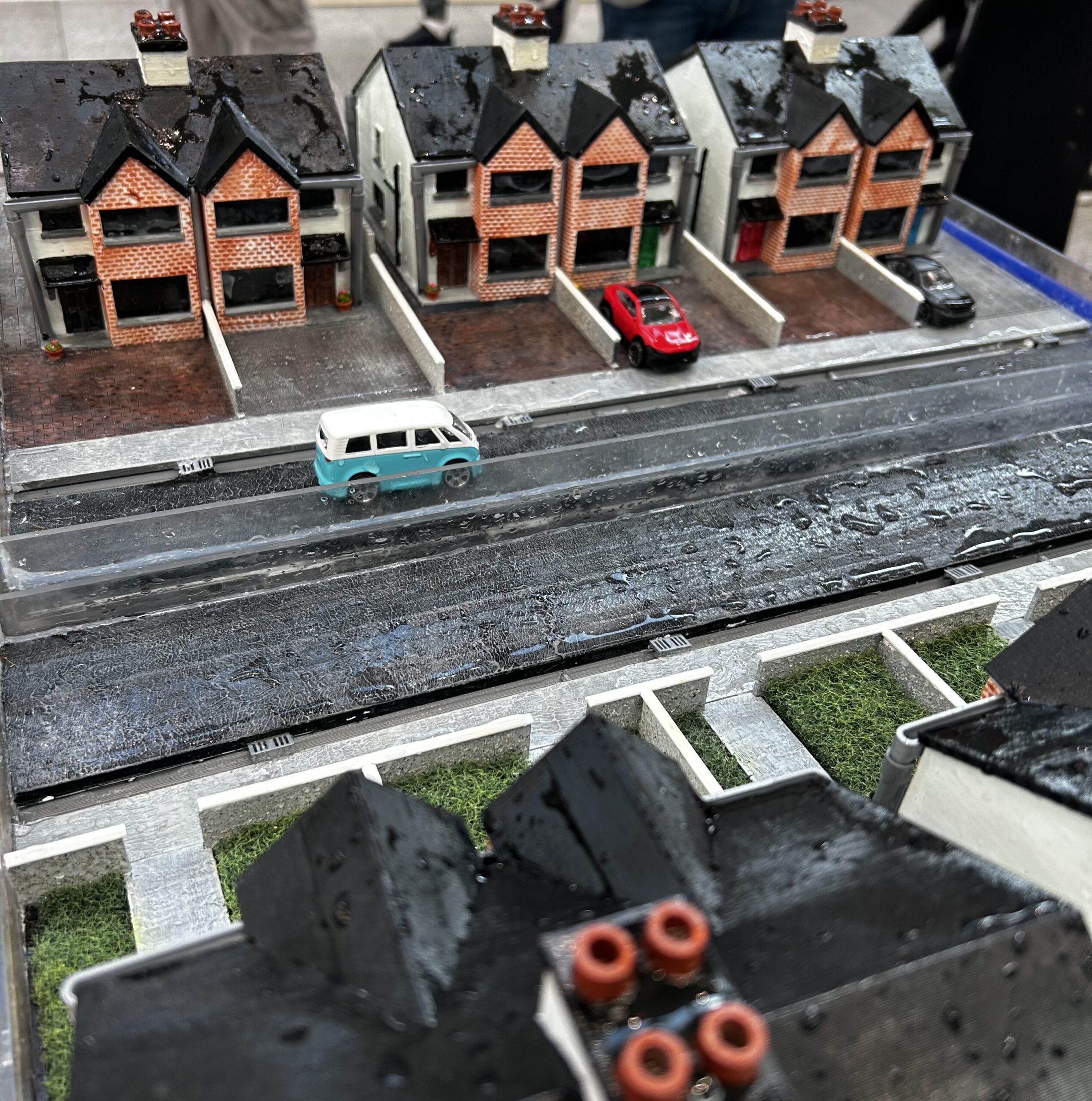 Augmented Reality
We incorporated an augmented reality experience around the 3D physical display so that those viewing the model can also engage in an augmented reality experience. One could scan the visible QR code using a phone or iPad camera to enjoy the 'Splash Dash' experience.
Designed to be interactive and portable so that it can be transported to public engagement events, Dublin City Council showcased the 3D model in the Ilac Shopping Centre in Dublin's City Centre on World Water Day, with lots of interactions from the public. The model was a fantastic focal point for curious shoppers to strike up conversations with us about water drainage in Dublin and try out the augmented reality experience.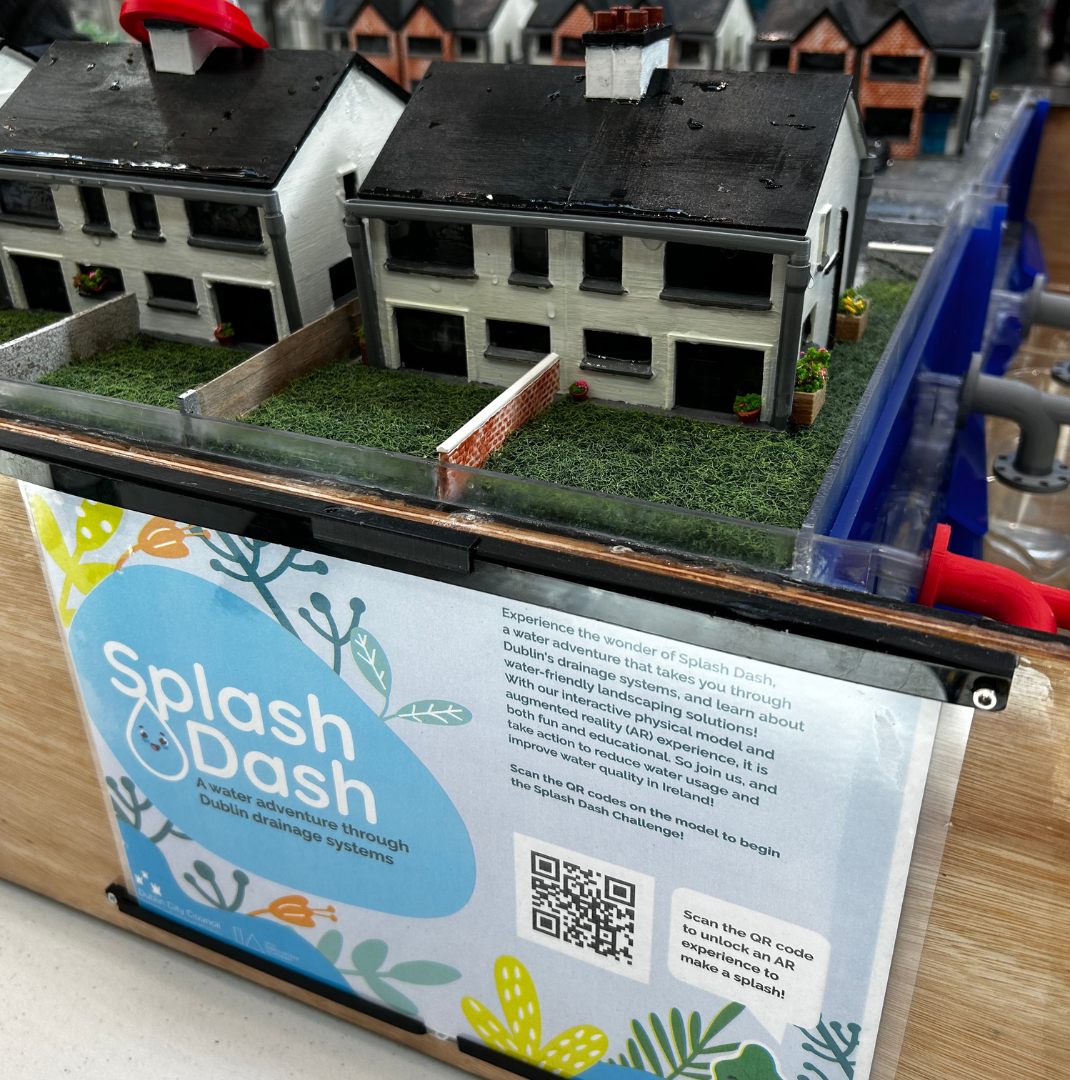 Social Media - AR Filter
To ensure Dublin City Council's online channels were also incorporated, we devised a fun social media filter for World Water Day to target a younger audience and build engagement. The filter is located on the Dublin City Council's Instagram profile, where users can play the filter game, collecting rainwater droplets into a flower bed planter. The more water collected, the more the flowers in the flowerbed grow on the screen. At the end of the ten seconds, the filter will inform the user how much water they collected and what this is equivalent to. For example, saving four litres of water is enough to wash your hands—an easy and fun way to demonstrate the benefits of water conservation.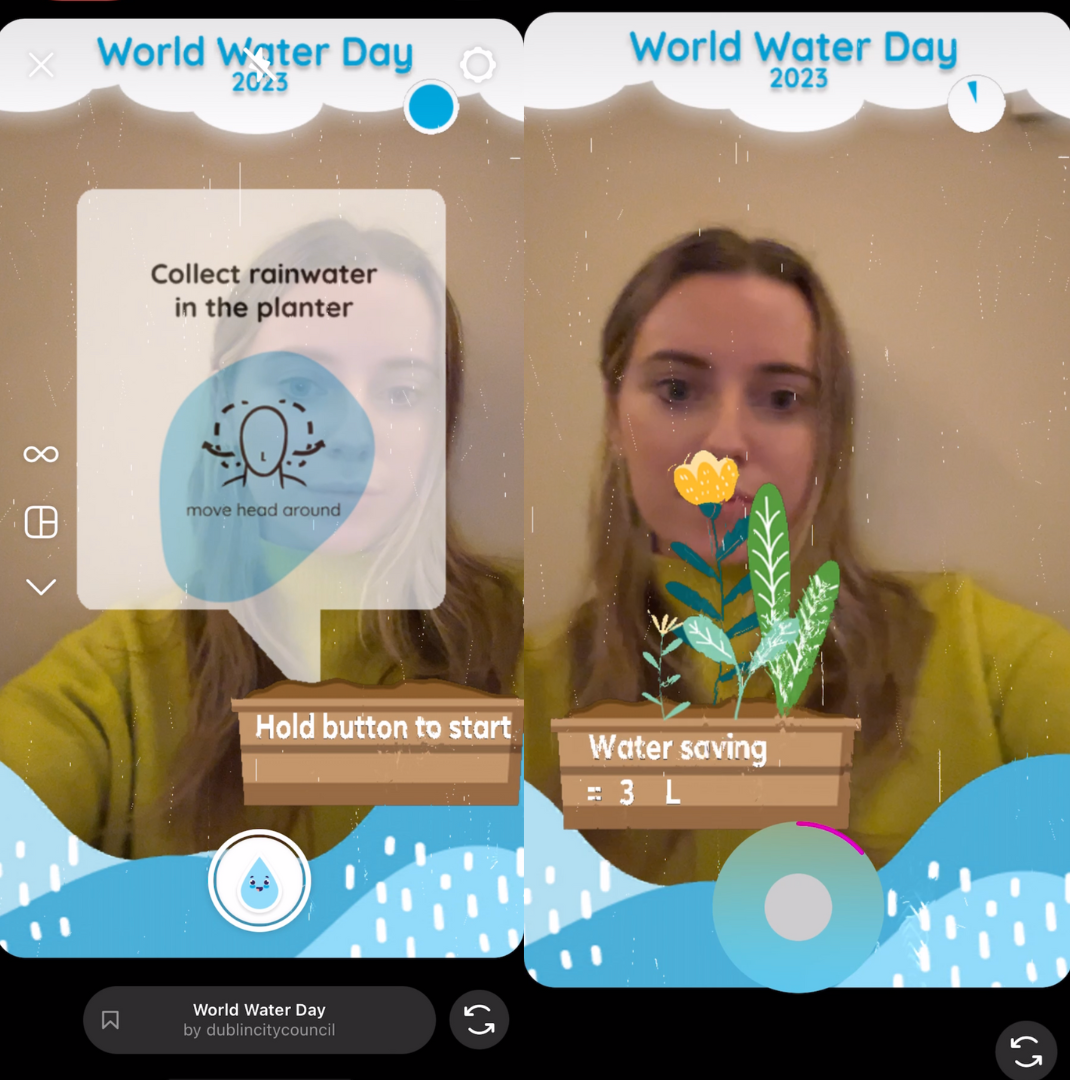 In the spirit of collaboration, we created a dual post on Instagram where an instruction video on how to use the filter was shared simultaneously on the Dublin City Councils Instagram profile and the Innovation Academy's Instagram profile, with a combined reach of 20.8k followers, which you can see here.

""We were delighted to partner with Dublin City Council for this project and leverage our unique interdisciplinary expertise, combining education, technology, behaviour change and advocacy for public good. The project was made possible through Convene our Human Capital Initiative project with TU Dublin that seeks to transform how higher education collaborates with enterprise and others; it's a wonderful exemplar of how higher education can bring learning to life." "
Innovation Academy Partnerships
At the Innovation Academy we provide transformational educational experiences for the betterment of society and the economy. We prepare learners for the challenges and opportunities of the 21st century, in particular building a sustainable future, and to help us all to live well in the world. We are a catalyst for positive change, within individuals, institutions and societies. 
If you are interested in a partnership with us, please contact Eleanor.Kelly@ucd.ie.