In 2023, UCD Innovation Academy hit a record number of 1,200 undergraduate students taking Innovation Academy electives, tripling our numbers since 2018/19. During the pandemic, our numbers doubled to 920 students; we've grown that figure every year since then. 
"I was able to practice and demonstrate a variety of transversal skills such as creativity and innovation, interpersonal skills, and media and information literacy – these are skills that I will be well aware of and strive to use as strengths in any job that I land in the near future." – Virtual Reality for Future Skills Student, 2022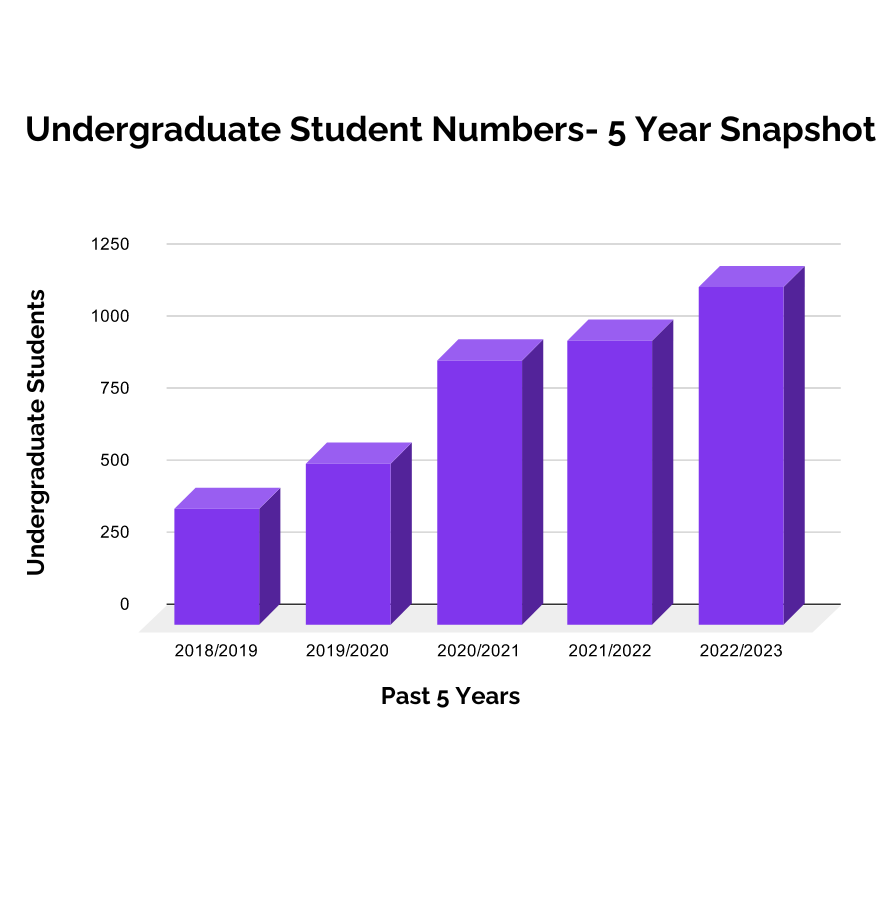 The Structured Elective
Since introducing the structured elective in 2019, over 48 students have qualified to receive a Structured Elective in 'Innovation for Change', which appears on their UCD transcript when graduating. Students who take and pass three IA elective modules can qualify for it, highlighting their time at the IA. We were pleased to recognise many students on their third and fourth elective modules at the Innovation Academy this year and look forward to seeing these figures rise at the September 2023 graduations.
Undergraduate Growth Figures
This year we had students from each of the 37 schools across the university take our modules, which enhanced our classrooms' multidisciplinary aspect.
"It is so important to have a variety of students/makers from different backgrounds as the types of creativity and ideas generated will come in great variety instead of versions of the same things." – Design the Future Student, 2022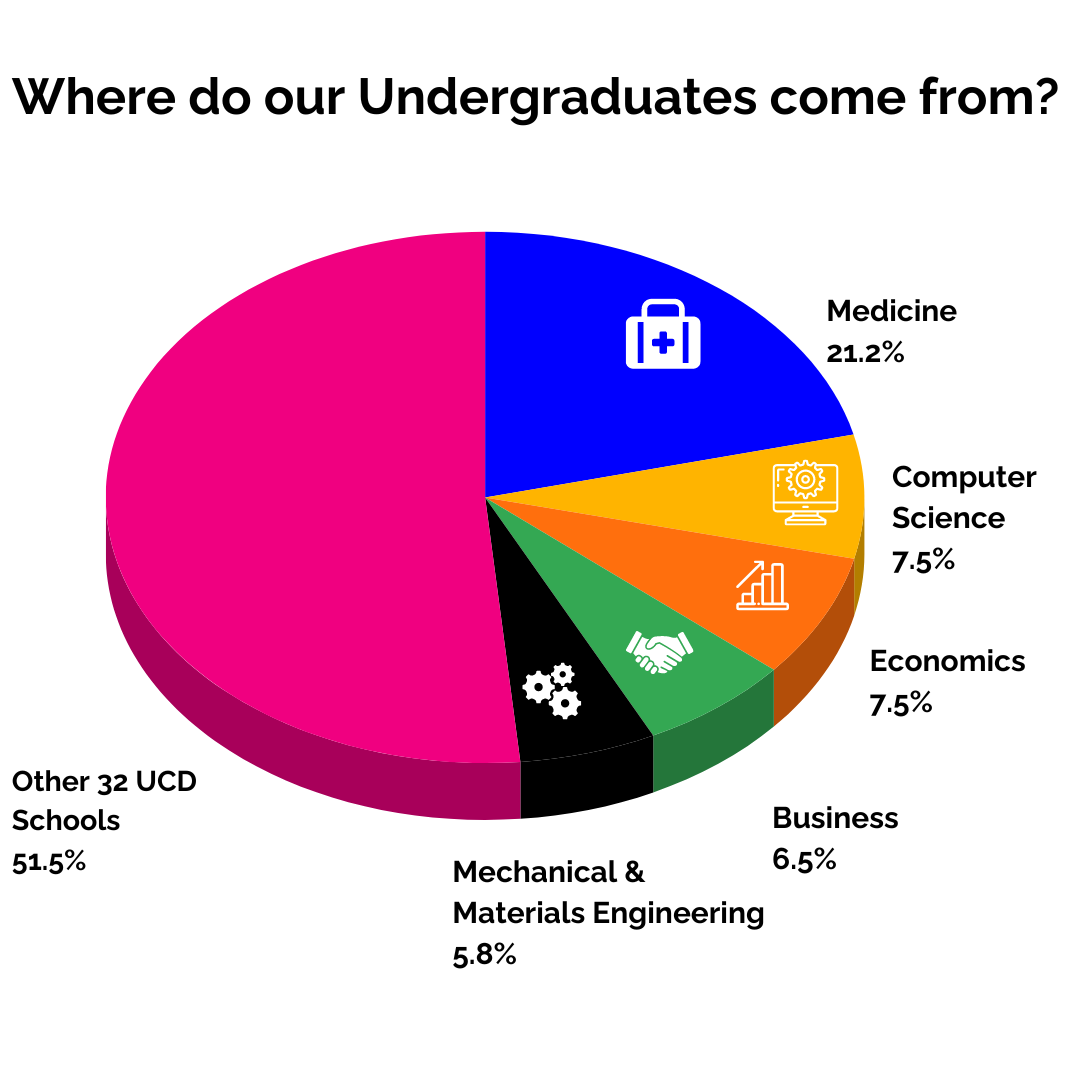 Modules Offered
Our module offerings included; Innovation For Sustainability, Social Entrepreneurship, Creativity & Innovation, Design Your Life, Essentials of Entrepreneurship, Designing the Future, Virtual Reality Future Skills and Design Thinking. 
During our March 2023 teaching block, the UCD Science building and our industry host partner buildings were hubs of creative, colourful and innovative ideas showcased across the walls of all classrooms.
Innovation for Sustainability students delved into design thinking and understanding the Sustainable Development Goals, learned about Revolution Farm and their impact and showcased their learning during a final pitch with a sustainability panel of experts, including the Innovation Academy team Ann Foulds, Avadhoot Potdar and Lizzie Gageby Bell from The Rediscovery Centre.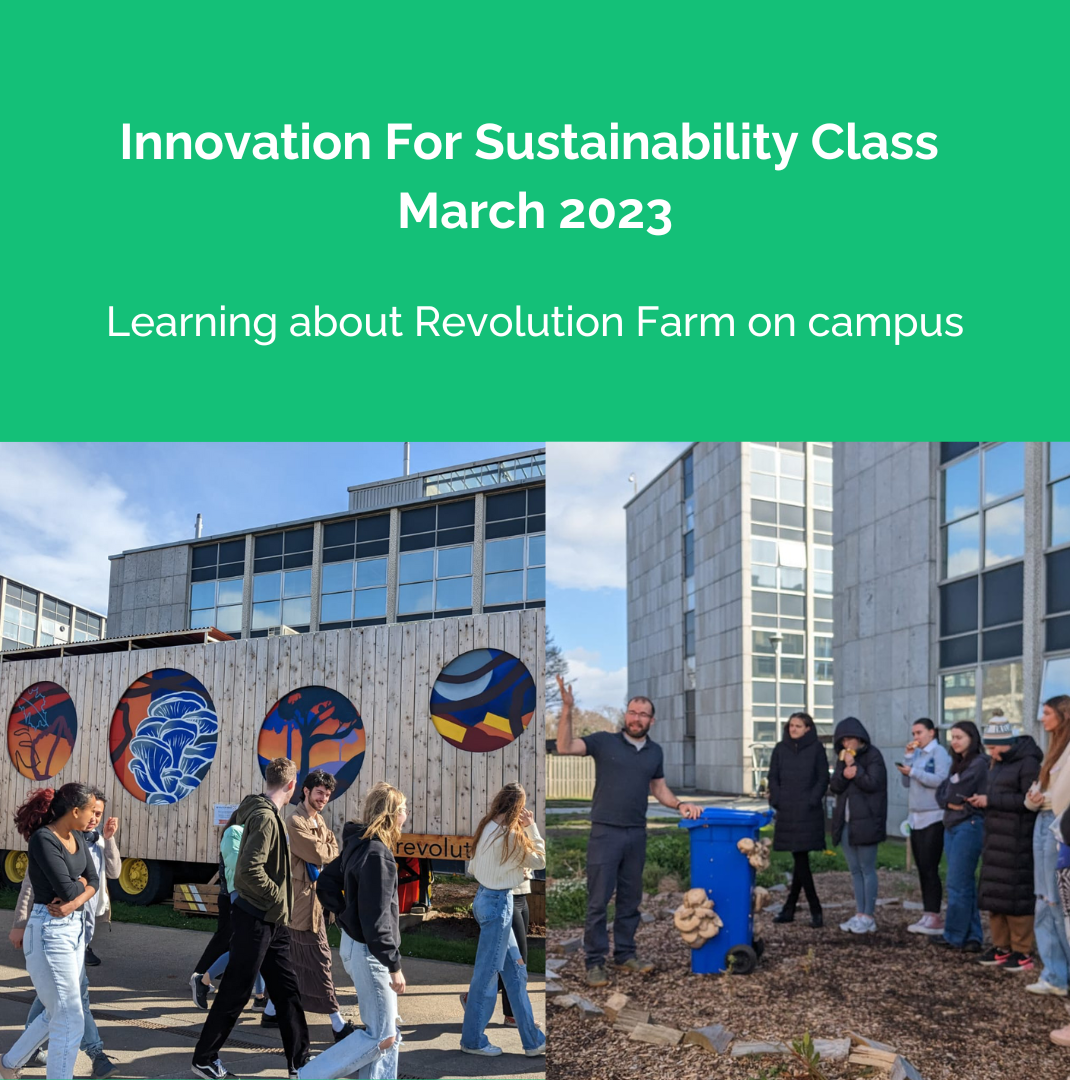 We leveraged our industry partnerships to enhance the student experience with our Virtual Reality for Future Skills students participated in a day-long workshop with Accenture hosted at their HQ building in the Dublin Docklands. Students heard from innovation experts, learned about their projects and work with virtual reality products in the public health sector, raised questions, and participated in insightful discussions and challenges, presenting to a panel of Accenture's innovation experts.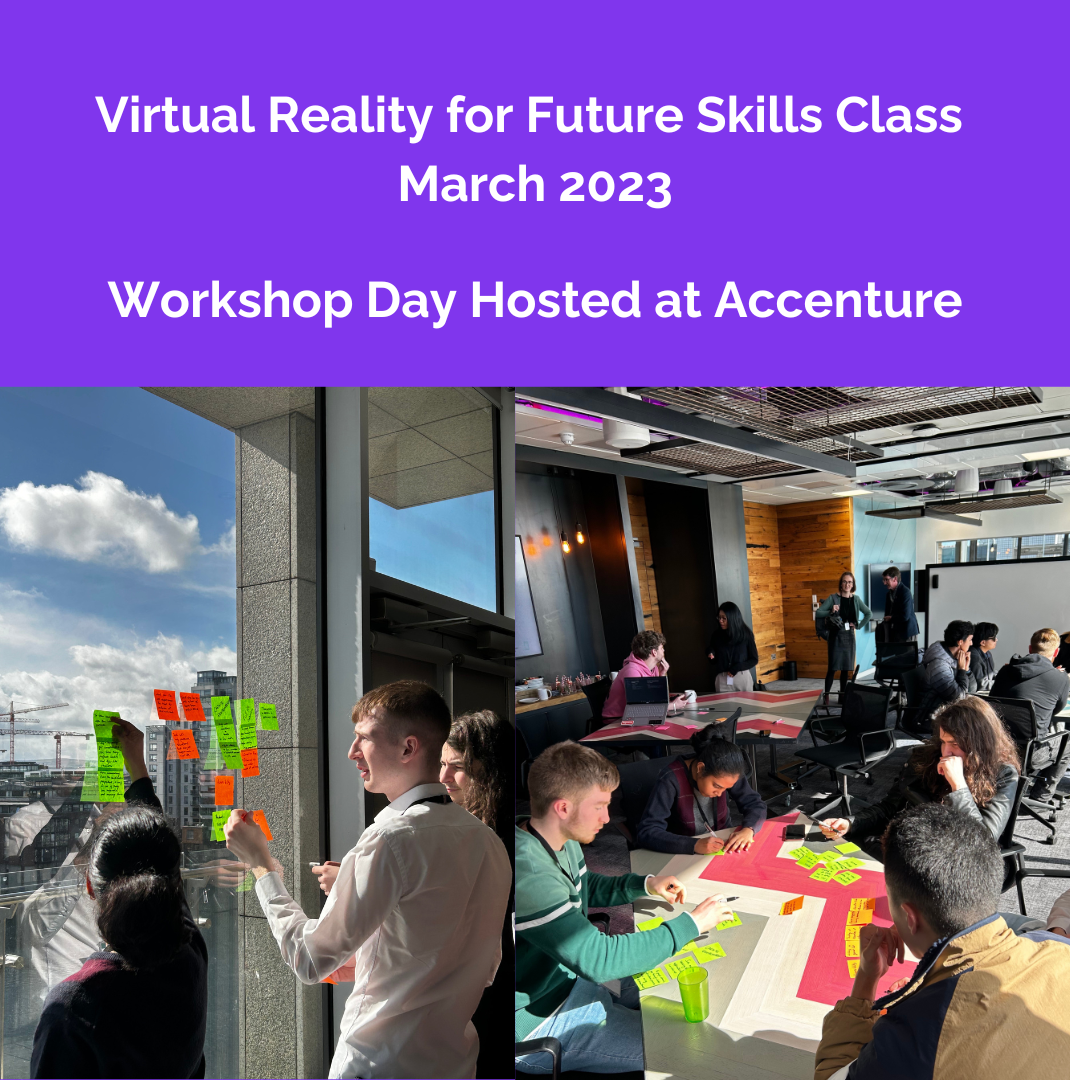 One hundred and twenty students on the Creativity and Innovation module had the opportunity to work on real-life organisational challenges with one of our industry partners at Deloitte, who share our belief in the transformative power of radical collaboration. Hosted at Deloitte HQ for the week and guided by UCD Innovation Academy's facilitators, students were challenged to think creatively, learned the design thinking methodology and put it into practice when working on organisational challenges set by Deloitte experts such as; sustainability at corporate events, employee brand/attracting and retaining graduates and building a strong team with a collaborative culture. Following the design thinking sprint, students pitched their ideas to the Deloitte team and UCD Innovation Academy facilitators for feedback and discussion.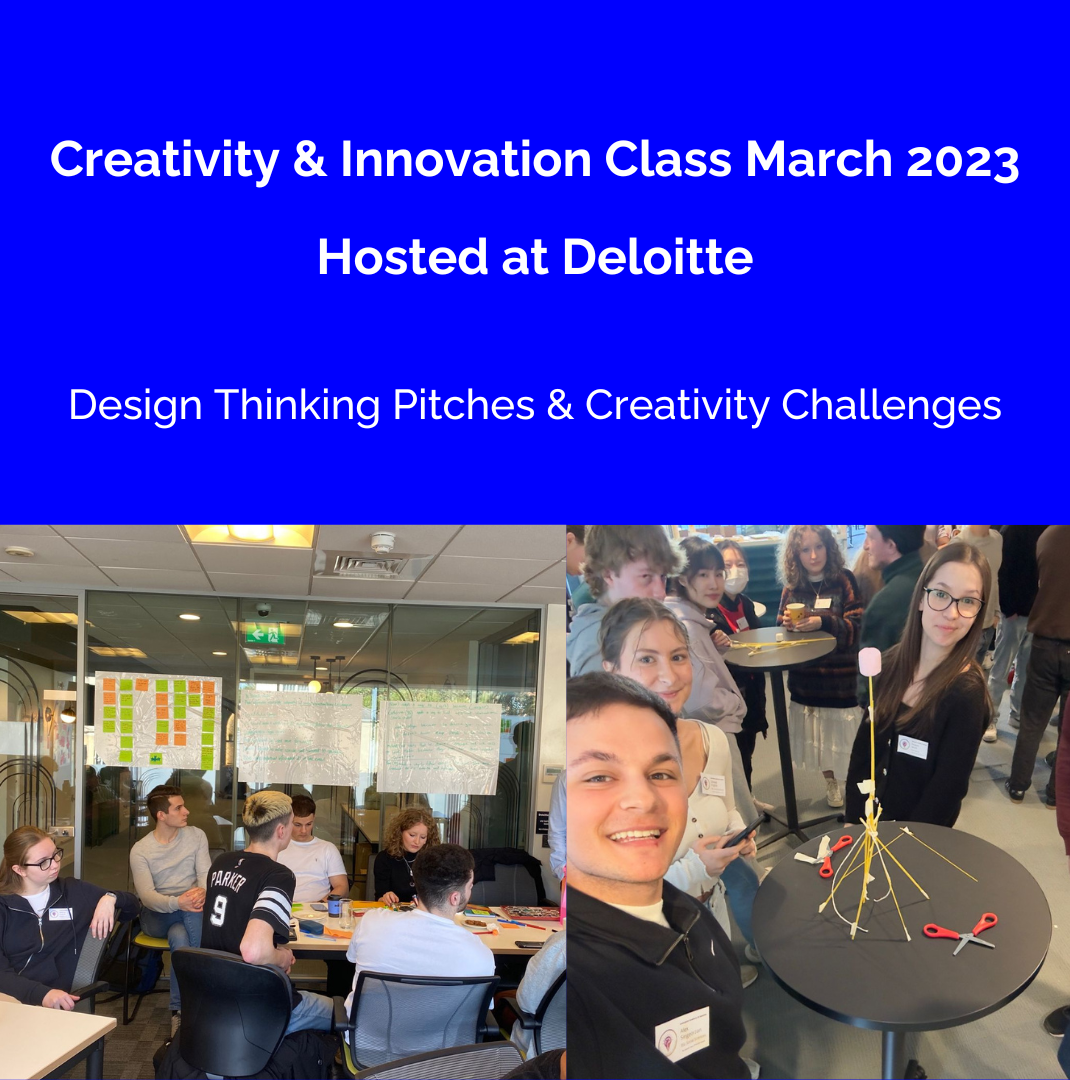 Our Design Thinking, Social Entrepreneurship and Essentials of Entrepreneurship classes decorated the walls with creative, innovative and inspiring ideas following team brainstorming sessions, working on pitches, prototypes and ideas throughout the week. Our Design Your Life class learned the design thinking method and, rather than apply it to contribute to developing an organisational challenge, applied the approach to their careers and life goals, which enabled insightful discussions and reflections throughout the week.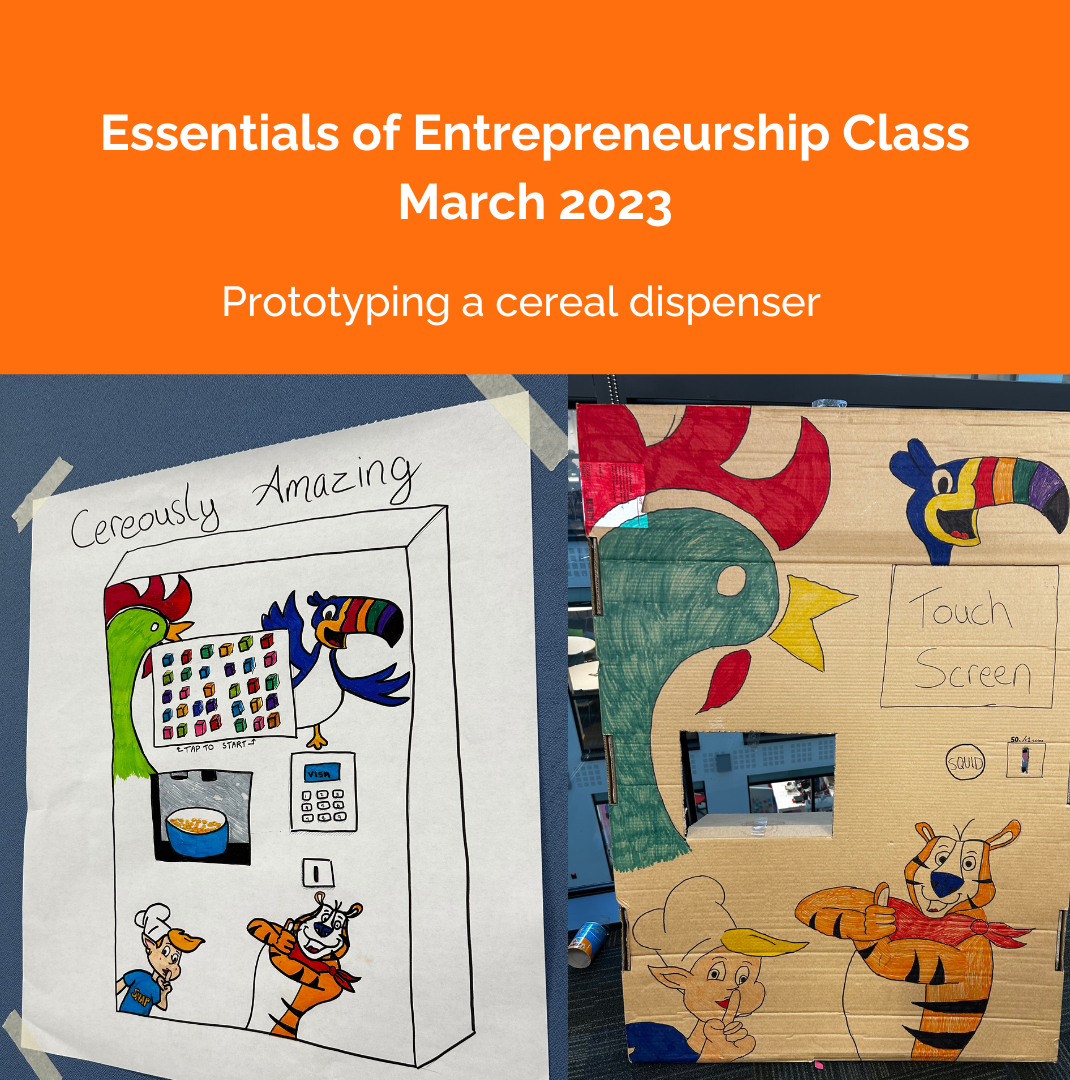 How our 2023 undergraduates describe the UCD Innovation Academy elective modules….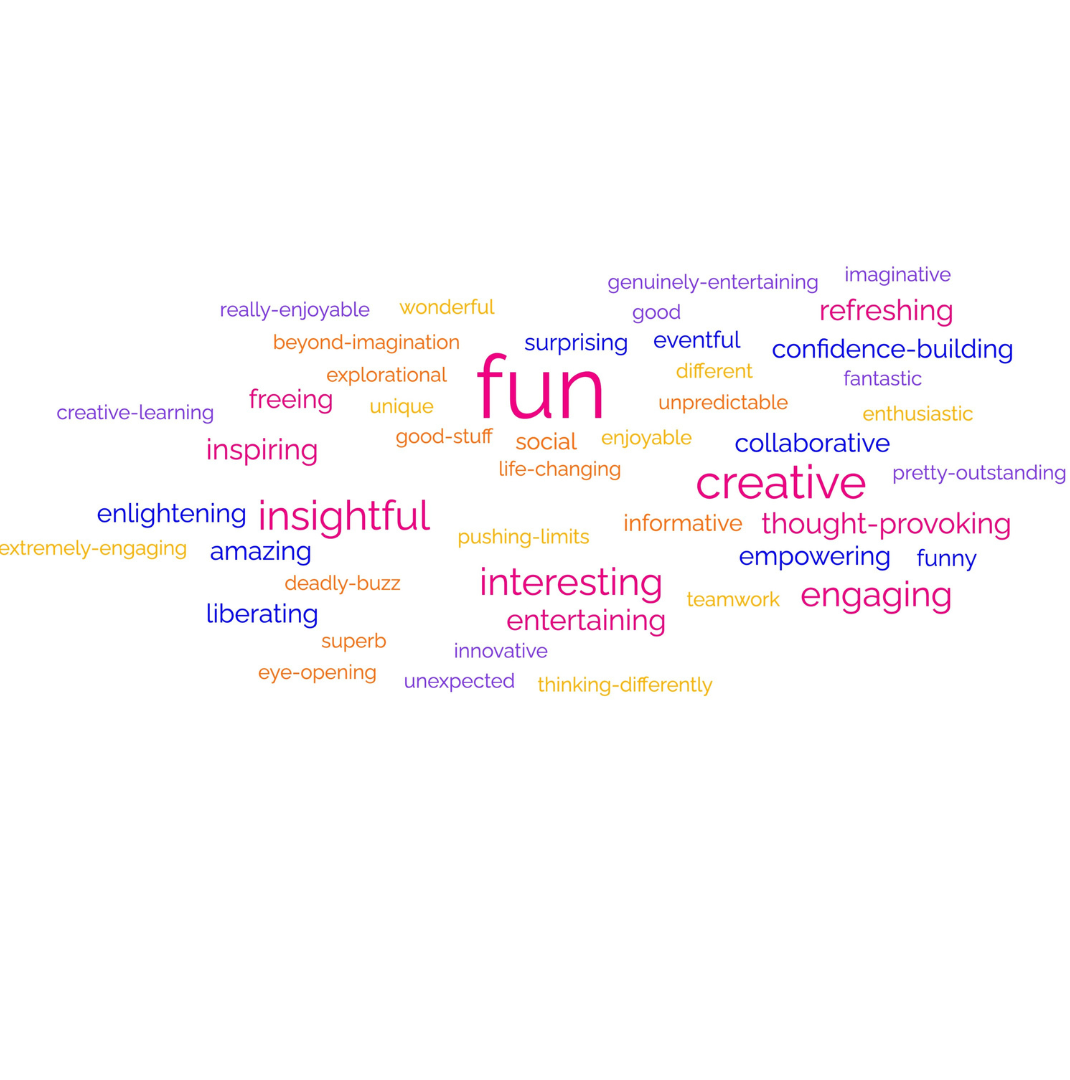 Undergraduate Modules
For further details on our Undergraduate Module Offerings, please see here.