Key facts
5 ECTS per module
UCD Structured Elective in Innovation for Change: Take any three of our modules as electives to gain a UCD Structured Elective in Innovation for Change which will appear on your transcript for employers to see. N.B. Modules taken as options are not counted towards this.
All modules are GPA Neutral. Enjoy learning by doing without the pressure of an end of trimester exam or essay.
Typical assessment:
40% Attendance and participation
20% Team presentations (In Class)
20% Continuous assessment
20% Personal reflections
Overview
The world of work is changing faster than ever before and employers are looking for graduates with an innovative and entrepreneurial mindset. 
A module with the Innovation Academy will allow you to step away from your discipline and experience learning from a completely different perspective. With different modules to choose from, you can tailor your own programme to broaden your horizons and develop the skills employers need.
You'll join hundreds of students from all levels and disciplines in our fun, energising learning environment. It's a more practical, collaborative approach, which will encourage you to harness your creativity, and apply your learning in the real world. 
Our educators will help you to look at some of the world's toughest challenges from different perspectives. And you'll gain valuable experience engaging with others and sharing your ideas, building confidence you can carry with you into interviews and presentations. 
It's a mind-blowing experience you'll never forget. 
What our students say
"This is the most engaging learning environment that I have ever experienced."
– 2020/21 participant
Who is it for?
These modules are open to all eligible UCD Undergraduate students who can take a module as part of their course.
You'll join fellow students from across all disciplines at UCD, to collaborate on real-world problems. With these modules you will leave UCD a more rounded graduate, armed with the skills you'll need in the world of work.
So what are you waiting for?
I improved my communication skills, my presenting skills, teamwork, problem-solving and much more.
2019/20 Participant
An entrepreneurial spirit, creativity, and an innovative approach are key attributes employers we look for ourselves when hiring.
Shane Mohan
Partner, Government and Public Services Leader at Deloitte
The caring nature of the facilitators really comes through in the modules and they are always willing to advise.
Meg Brennan
UCD BioEngineering & BioMedical Engineering student and winner of the Accenture Young Leaders of Tomorrow Award 2019
Read more
The Innovation Academy gave me the opportunity to take the critical skills of my degree and apply them to real world scenarios.
Cian O'Ceallaigh
Corporate & Enterprise Account Executive, Qualtrix
Read all stories
Module structure
During this fully immersive learning experience, you'll focus on learning by doing, through a combination of live workshops, as well as activities, tasks, and individual or team project work.
Combine any 3 elective modules during your time at UCD to earn a UCD Structured Elective in Innovation for Change. Modules taken as options cannot be counted toward this. This will appear on your academic transcript for future employers to see.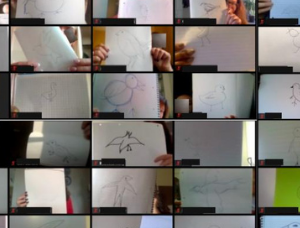 Why choose us
Modules
How to apply
Assessment
Who leads this course?
Career opportunities
UCD Innovation Academy sits at the cutting-edge of education in Ireland, and the world. 
We've been challenging students to see the world differently since 2010, when we became one of the first universities to offer experiential learning. 
When you choose a module with the Academy, you're opening your mind to new ways of thinking. You'll collaborate with students from right across the university, giving you the chance to explore different ways of looking at the world. 
Taking a module with the Innovation Academy will differentiate you from other graduates and give you the skills to hit the ground running in the world of work. We have countless examples of our alumni accelerating their careers and changing the world from within organisations or as entrepreneurs and social entrepreneurs. 
Students at the Academy also have access to the latest technology to support their creativity. The IA MakerSpace  is the place where our innovators go to bring their ideas to life. 
Here at the Innovation Academy we have everything you need for a learning experience you'll never forget. 
Each of these modules is designed to arm undergraduates with a more innovative mindset.
You'll join a growing community of students around the world who are discovering their true potential, and developing the skills employers need.
Each of our modules explores a different dimension, so combine two or more to give yourself a more rounded learning experience. 
If you take any 3 or more modules, you'll earn a Structured Elective. 'Innovation for Change' will appear on your academic transcript for future employers to see.
---
Creative Thinking & Innovation
Learn how to develop innovative ideas and concepts.
Over the course of the module, you will actively engage in developing creative solutions to problems and learn methods to critically evaluate these solutions. You will practice the art of storytelling through pitching ideas, making videos and creating and delivering presentations.
---
Essentials of Entrepreneurship
Learn how to develop new businesses and ventures.
In a rapidly changing world, people in all sectors need to think more creatively, innovatively and entrepreneurially in order to develop new ventures, create sustainable solutions to real problems, make effective decisions and improve existing organisations, . In this module, the learner will be introduced to key theories, models and concepts of entrepreneurship which can be applied in real-world settings.
---
Social Entrepreneurship
Develop innovative ideas to change the world for the better.
This module will introduce students to the concept of Social Entrepreneurship, a rapidly growing sector that is focused on the development and implementation of solutions that address social and environmental issues.
---
Design Thinking
A human-centred approach to design new products, services, and more.
This module introduces the learner to the essentials of Design Thinking. Over the course of the module, the learner will be introduced to the key theories and concepts of Design Thinking and then work in a team to address a real-world challenge.
Design Your Life
What's next? A plan and toolkit for important life decisions.
Over the course of the module, participants will reflect on their life so far, their values and their sense of purpose. Using a combination of creative and analytical tools they will work to develop insights into themselves and to map out their way ahead, acquiring a toolkit that can be used at any point in life to identify, evaluate and make informed career and life choices.
---
Innovation for Sustainability
Gain a mindset & skillset to design a more sustainable tomorrow.
You will learn about the key challenges in sustainability and explore the potential of human centric design approaches and the circular economy, while developing your innovation and sustainability mindsets.
---
Global Innovation Challenges
Global challenges | Innovative solutions | Real world impact.
In this module, students will work in teams on an entrepreneurial challenge related to the European Union's 'Horizon Europe' Global Challenges and Missions and/or the UN Sustainable Development Goals.
---
Designing the Future
Learn design, prototyping and manufacturing skills.
Over the course of the module, you will be introduced to a variety of technology and visualisation tools. You will build skills in ideation, testing, and prototyping while improving your communication skills between business and engineering following sustainability best practices. Using these skills you will make physical prototypes using 3D printing, wood, acrylic and other materials culminating in a creative and professional portfolio.
For existing students (2nd year and above):
Registration for modules begins in August. 
For Incoming 1st Year Students:

When registration has opened for your chosen module, login to SisWeb and click MyRegistrations. 
(All students will be notified by your course programme office when registration is open.)
Select the option to register for a module. 

On the next screen, type in Innovation Academy in the Subject Search box.

Select the module you would like and when you would like to take it.

Please note that because the modules run from 9.30am-4.30pm Monday to Friday, the module will display a little strange in your SisWeb schedule. This is ok and will not clash with your other modules. 
If you have ANY issues registering for an Innovation Academy module please contact your individual school programme office to check that you are eligible to register for a general module at this time.
If you are sure you are eligible, email innovation.academy@ucd.ie with 'For the attention of Jocelyn O'Shea' in the subject line.
Full participation and engagement throughout the module is essential, so attendance accounts for 40% of your assessment. 
You'll be continually assessed throughout the module, as well as delivering team presentations and reflecting on what you have learned.
All of these modules are assessed as pass or fail, and they are GPA Neutral. This means that you can enjoy participating in class and take risks, without the pressure of an exam at the end. 
As the module involves continuous assessment, participants must attend all class sessions.
Typical assessment:
40% Attendance and participation 

20% Team presentations (In Class)

20% Continuous assessment

20% Personal reflections
All modules at the Innovation Academy are developed and facilitated by our exceptional team of educators. 
The team boasts a wealth of experience from a wide variety of backgrounds. They are international entrepreneurs, doctors (both medical and academic), robotics experts, storytellers, conservationists, campaigners, and creatives. 
What they all have in common is their love of the innovative, learning-by-doing approach to learning and their devotion to delivering a world-class student experience. 
Read more about the people behind these modules.
Employers in all sectors are looking for graduates who are creative, entrepreneurial, collaborative, and innovative. These modules add a further dimension to your learning at university, helping you to gain skills like teamwork, communication and creative problem solving that are transferable to the workplace. These skills can set you apart from other candidates as you enter the world of work. 
The innovative, collaborative approach fostered on these modules will help you to become a more rounded graduate and prepare you for the world of work.